John the Baptist declared these words when looking at Jesus:  "Behold the Lamb of God who takes away the sin of the world." 
It was the "sacrificed lamb", in the Old Testament of the Bible, that had to be "pure and spotless"... not the person having their sin atoned for. This is because the blood washed away sin for that person. A divine exchange took place: God was satisfied, and the person forgiven, because of the blood that was spilled.
This reveals to us how Christ Jesus, known as "The Lamb of God" would wash our sin away when He went to the Cross. The Old Testament Jewish Practice was a picture of what Jesus would do for us.
The GOOD NEWS is that Christ Jesus IS God's Son, who came down from heaven just to save sinners... not to condemn them...but to free them from sin and from death (the consequence of sin). Most of us know John 3:16, but do we embrace the next verse which I've highlighted? 
John 3:16-17 For God so loved the world, that He gave his only begotten Son, that whosoever believeth in him should not perish, but have everlasting life. For God did not send His Son into the world to condemn the world, but that the world through Him might be saved. 
You need not become perfect to come to God. You do need to realize, however, that you need for your own sin to be removed and forgiven, for it has been separating you from a relationship with God, your Creator. 
It is in the coming TO CHRIST that sin can LEAVE your life, restoring your relationship to God.  (Romans 6:20-23; Romans 3:23-24) 
THIS IS GRACE. We are not saved by works or by keeping the law, but through FAITH in the Blood of Jesus. We are all on an even-playing-field when it comes to The Cross. We all need Christ's Blood to save us from eternal damnation.
ANOTHER IMPORTANT REVELATION of the BLOOD OF CHRIST: 
In modern day, we run something known as "a paternity test' to determine "the father" of a child, for the blood comes from the Father and runs through that child's veins whom he has fathered. 
This modern day "revelation" can help us to actually understand why the blood of one man could save the world. Jesus was the one man in history who was "VIRGIN born" and Christ himself testifies that His Father was GOD. God testifies that his son is Christ too! (see 1 John 5:9-13)
Jesus is a pretty-high authority, wouldn't you say? And He testifies of himself as THE Son of God, throughout His life. 
However, God is an even higher authority, and He himself declared: 
"This IS my beloved SON, in Whom I am well pleased." 
Jesus's Blood is of GOD, HIS FATHER. It is therefore special blood...the blood OF GOD! Therefore, only his pure, spotless blood…that of God's Only Begotten Son…the Spotless Lamb, meaning "he was without sin"… Could hold the power to save the world from the wrath Of God. 
No '"man" but God's SON could die TO SAVE, so that we might partakers of the love and grace of God and be free from the law of sin and death. 
God loved you enough to send His Son to take your place…To become sin for you and l, that we could become The Righteousness of God IN CHRIST. (2 Cor 5:21)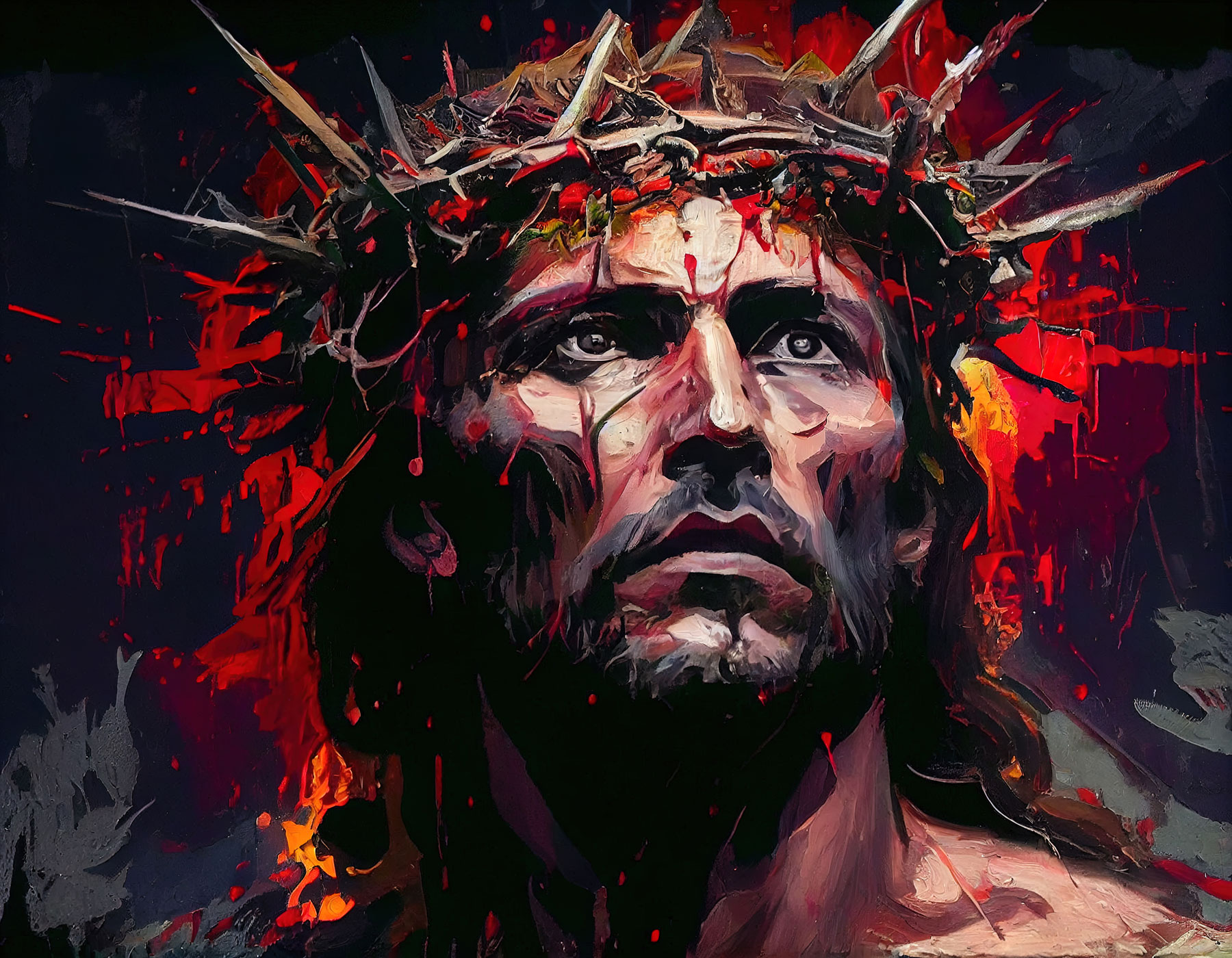 Jesus IS The Way to God ! The only way! 
"If we walk in the light, as He is in the light, we have fellowship one with another, and THE BLOOD OF JESUS CHRIST HIS SON CLEANSETH US FROM ALL SIN" (I John l :7). 
Praying DOES NOT cleanse from sin. 
Joining a church DOES NOT cleanse from sin. 
Living a good life DOES NOT cleanse from Sin. 
Being baptized in water DOES NOT cleanse from sin. 
Partaking of the sacraments DOES NOT cleanse from sin. 
Committing your life to God DOES NOT cleanse from sin. 
We cannot leave His SON, Jesus, out of it! 
THE BLOOD OF JESUS — HIS BLOOD ALONE — CLEANSES MANKIND FROM SIN! 
Now, if you have time, and sound, take a moment to listen to this song (click the link below or the Jesus pic above, and be sure to return to this page, okay?) :
https://receivefromme.com/track/3516181/only-by-the-blood-of-the-lamb 
Ephesians 1:7  "In Whom we have redemption through his blood, the forgiveness of sins, according to the riches of his grace." 
Religion focuses on what man does, or does not do, to appease his god. Christianity focuses on what God has done For Us, His people. Then we want to live according to His commands because we LOVE Him! For saving us! 
Man can't get to God apart from Jesus Christ: "FOR THE WAGES OF SIN is death; but the GIFT OF GOD IS eternal life through Jesus Christ our Lord" (Romans 623). 
Sin pays singular wages: DEATH! Christ died for our sins "according to the Scriptures" (1st Corinthians 15:3). It took the DEATH OF JESUS, and the shedding of HIS BLOOD, to pay sin's debt, and bring REDEMPTION FROM SIN. 
"And from Jesus Christ, who is the faithful witness, and the first begotten of the dead, and the prince of the kings of the earth. Unto him that loved us, and WASHED US FROM OUR SINS IN HIS OWN  BLOOD…" (Revelation 15). 
We read in 1st Peter 1:18-19 "Forasmuch as ye know that ye were not redeemed with corruptible things, as silver and gold, from your vain conversation received by tradition from your fathers; BUT WITH THE PRECIOUS BLOOD OF CHRIST, as of a lamb without blemish and without spot." 
"But if we walk in the light, as he is in the light, we have fellowship one with another, and THE BLOOD OF JESUS CHRIST His Son cleanses us from all sin." I John 1:7 
The only way to have your sins forgiven, and your name written in the Lamb's Book of Life, is by appropriating the precious blood of Christ Jesus. Self-Righteousness has no place. No person is "better than" another, or more "righteous" when we become aware that we are saved by the blood. We become "blood brothers", so to speak, and members of the Family of God, knowing our righteousness is only in Christ. 
Your sin was placed upon Jesus when he went to the Cross to shed his own blood to obtain eternal redemption for you. The divine exchange, when you "Receive Jesus Christ as Your Personal Savior" is that you immediately become righteous (in right standing) in your position with God, through Christ. His wrath immediately turns away from you, and you become his son or daughter and a part of the Family of God. 
Saving Faith is when you come as a sinner in need of a Savior, and you actively place your trust upon Jesus Christ to forgive and save you, because of the blood that He shed for you as the pure spotless Lamb of God. 
These verses link the Old and New Testament so we can see truth about the Blood of Christ: 
"For the life of the flesh is in the blood: and I have given It to you upon the altar to make an atonement for your souls: for IT IS THE BLOOD THAT MAKETH AN ATONEMENT FOR THE SOUL." —Leviticus 17:11 
"Neither by the blood of goats and calves, but BY HIS OWN BLOOD he entered in once into the holy place, having obtained eternal redemption for us." —Hebrews 9:12 
It's the Blood of Jesus that washes your sin away and makes atonement for the soul! The Blood basically buys you (redeems you) out of the Kingdom of Darkness, then puts you into the Kingdom of Light. 
The work of the blood is continuous. If you stumble in your Christian Walk…meaning you sin as a Believer, you confess your sin to God and trust his blood to wash it away and you begin anew to walk uprightly. I John 1:9 is a great verse to memorize so condemnation doesn't come on you: "If we confess our sin, He is faithful and just to forgive us our sins, and to cleanse you from all unrighteousness." 
Think of the blood as a fountain flowing deep and wide…jump in that blood and splash it all over…its power is continuous to cleanse you of your sin and to cleanse your conscience too. Christ's blood is permanently on the mercy seat in heaven, and available for your access as a believer. 
Now, this is very important to know: The Holy Spirit is given Believers in Christ to live inside of you, to help you to walk in the light (meaning in obedience to God and in love for Him), and to guide you in your Christian Walk. According to Ephesians 3:19 we can  "know the love of Christ, which passes knowledge, that ye might be filled with all the fulness of God"! 
What is to set Christians apart, from all other people on the earth, is that we are made righteous through Christ, because we basically "died with Him at the cross" and then we have the Holy Spirit given to us, and so Christ now Lives within us, through His Spirit. 
The Holy Spirit is the communicator between heaven and earth, between God and Christ and you! He is the one also who leads people To Christ, so you are not reading this page my accident. The Spirit is leading you to a new life in Christ. The Spirit is God will speak to nonbelievers to draw them into The Kingdom of God. So Today is the day, if you are feeling a prompting within to become a Believer in Christ! Do not delay!
IF YOU ARE READY TO RECEIVE THE BLOOD OF CHRIST, JUST ASK JESUS TO BE YOUR LORD AND SAVIOR... AND LET HIM TAKE THE RULE OVER YOUR DAILY LIFE. HE IS GOD. 
I WILL WALK YOU THROUGH A SIMPLE PRAYER THAT GOD WILL INDEED RESPOND TO. 
Pray this prayer out loud in faith, believing in what you speak, talking TO God. The Spirit of God and Christ, the Holy Spirit, will come to live within you, and your new life will begin. Your old life will pass away, as it is, for you will become a new creation in Christ Jesus.  Our obedience to the Holy Spirit is how we reveal to the World that we are His and show Him that we love and trust Him. We serve out of love because He first loved us. 
THE LORD WILL INDEED TRANSFORM YOUR LIFE. 
And when you die, you will go to Heaven. You abide in Christ and He in you, and one day He is returning to gather all the saved people unto himself.  So, you must abide in your faith, and prepare your heart, and be ready!
Now, this IS Eternal Life: that they know you, the only true God, and Jesus Christ, whom you have sent." John 17:3 
"All who the Father giveth me shall come to me; and him that cometh to me I will in no wise cast out." John 6:37  He will receive you… it's a promise!
"And this is the will of him that sent me, that every one which seeth the Son, and believeth on him, may have everlasting life: and I will raise him up at the last day." John 6:40  
I hope these three last scriptures shared will really make you ready, to say "Yes" to Jesus! You will never ever regret it! (smile)
A PRAYER FOR SALVATION
Almighty God, 
I know that I am a sinner and I do not deserve eternal life or earn it by my works. 
My sin has separated me from you, and only Jesus Christ's blood can reconcile me to you. 
I repent of all my sin, and I choose to turn away from sin, and desire to be free of sin's consequences. 
I believe Your Son Jesus Christ died, shedding his blood, washing away all the guilt and condemnation and penalty for my sin… for ALL my sin… and that He rose from the grave to make me a new creation, and to prepare me to dwell in your presence forever. 
Please Jesus, come into my life, take control of my life, forgive and cleanse my sin, and save me. 
I am now placing my trust in you alone for my salvation. 
I accept your gift of eternal life. 
I will live my life for you, and make you my Lord, giving you the rule over my life. 
Enable us to be in close relationship and give me your wisdom for making my life's decisions. 
Fill me with your righteousness, peace, and joy. 
From now on I will call you Father God. 
Thank you, Father. 
I belong to you now. 
Thank you for saving me through Jesus. 
In Jesus' name I pray this, 
Amen. 
(Pause and just be still for a moment before the Lord; You, by faith, have just received New Life in Christ!) 
You're HOME, My Friend. Welcome to the Family! You now are a part of the Kingdom of God and are a member of God's family through Christ. 
Now that you've received the gift of salvation, ask God to completely fill you with the Holy Spirit, for you will need His empowerment within you to live for Christ. Then enjoy growing In Christ by being taught more about the Christian walk here on this website. Find a good local bible-preaching church so you can grow up in the knowledge of your Lord and Savior Jesus Christ. Get a bible of your own or download a bible app to read the bible, God's love letter to His People. The book of John is a great one to start with. Then maybe Romans. There is so much to learn, and it will be so exciting for you to be taught by the Spirit of God in the Word of God. The LORD will transform you by the renewing of your mind, with the Word of God, and please use Elizabeth Ann Smith's "Receive From Me" music and books to allow The Spirit to renew your mind, for these songs and books share His Word. 
Here is a good song to get started with! It tells you what is available now to you as a new believer:
https://receivefromme.com/track/1854740/when-i-am-saved
ENJOY THE JOURNEY as you prepare for Christ's soon return.   
Live now in hope and confidence that your eternal soul is safe and secure, no matter what comes forth in this world. 
Now by faith you will begin to walk with the Lord in fellowship, and I know you will LOVE being a Christian! 
I Love You, in Jesus. Enjoy my music and let Him draw you nearer. 
Be Blessed with Total Transformation, in Jesus Name! (smile) 
And may you come to know the True JOY of the LORD! 
Please make my joy full by letting me know if you've come to know Jesus through this website. You can use the contact tab. (smile) 
I love you in Christ Jesus! 
Elizabeth Ann Smith 
PS  If anyone wants to print out or share this page's url with social media or others, please do so! It's the Gospel's good news that must get out to the people so lives can be transformed and God can have them for eternity to be His Family!